Elisa
Dental Hygienist
Hi, I'm Elisa and I am a Dental Hygienist for Smith Dental Team. I grew up in Jenison so I have a huge heart for this community and consider it a privilege to provide care to the wonderful residents here and in the surrounding area. I'm passionate about providing great dental care to our patients by listening to their specific concerns and needs and helping each patient to achieve a better understanding of their oral care and the significant impact it has on their overall systemic health. I love finding ways to help patients achieve great oral care by using dental products they will use and love. I strive hard to provide a wonderful experience to all our patients and especially to our anxious patients. One of the greatest joys I have from my job is the relationships I have formed with our patients. It is always a pleasure catching up with patients and their families. Many have shared the highs and lows in life with us as well as pass along inspirational stories and wisdom. I truly value and appreciate these moments with our patients.
I'm so thankful to be working for Smith Dental Team. The doctors and team all work together to make each patient experience a great one! It is a joy to work with such an amazing group of dental professionals that are as dedicated and caring as they come and I feel blessed to count them as my work family. We have a lot of fun together and we hope our patients can see how we value both our team and our patients and that they feel like part of our dental family too! 
Dr. Smith has provided a wonderful transition to this office which thrives under his great leadership! Dr. Katie and Dr. Smith are both amazing dentists that listen to their patients and help to determine the best treatment plan with each patient to fit their needs which they both do with such care and integrity. This always helps to bring about sound results and ensure a positive experience for our patients. They both are skilled clinicians that have continued the great legacy of care Dr. Aylworth began with.
While I'm grateful to have this job that I love, I'm also thankful to be a wife and mom of three. In my spare time, I can be seen carting kids to sporting events and cheering them on from the sidelines. As a family, we love to vacation. We enjoy showing our kids great new places to visit and experience. We also enjoy relaxing by spending time on the water together or having a fire and great conversation in the evening. It's a good life!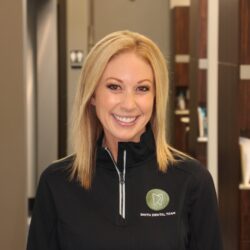 Jennifer
Dental Hygienist
Hi! My name is Jennifer and I am a Dental Hygienist at Smith Dental Team. Besides working with our top-notch doctors and staff, the best part about my job is our community of patients. Over the years, I have had the privilege of building many relationships while clinically treating and educating our patients on how to maintain oral health. Outside of my dental profession, I enjoy running and spending time with my family. I have a husband and two boys who are active in sports, so I spend a lot of my free time cheering all of them on. We also love traveling, hiking, spending time at the beach and sunsets!
Lisa
Dental Hygienist
Hello, my name is Lisa and I am a Registered Dental Hygienist here at Smith Dental Team. I graduated from Jenison High School in 1990 and GRCC in 1994. I attained a dental anesthesia certification in 2006. With nearly 30 years of experience in the dental field, I hate to admit that I am one of the more "seasoned" members of our team but the years just fly by and here I am! Self-appointed "senior hygienist." It is both a privilege and a blessing to be part of such a skilled and compassionate group of people. I have the utmost confidence in the care and values our team provides. My personal focus has always been to deliver quality individualized care to my patients using a conservative yet thorough approach. I am committed to helping patients achieve and maintain oral health and want them to feel comfortable and have a positive experience.  I have a particular passion for working in the area of periodontics. The best part of my job is the amazing opportunity to get to know and take care of such wonderful people. I consider the relationships I have built with many patients over the years invaluable and love to be a small part of their lives. 
When I am not at the office I enjoy being with family. I have a wonderful, supportive husband named Tim and three boys, Casey, Derek and Justin. I also have a very fat fluffy black cat named Bagheera and an English springer spaniel named Obie. We enjoy spending time at Big Bass Lake where we have a seasonal camping spot. You can find our family boating on the lake, riding the trails on our UTV and in the fall I enjoy crocheting in my cozy camper while my guys are out deer hunting.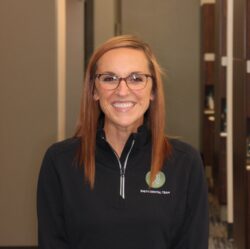 Megan
Dental Hygienist
Hi! I'm Megan and I am a Dental Hygienist at Smith Dental Team. One of the greatest things, for me, about being a dental hygienist is connecting with my patients! It's such an honor for me to help people learn new tips and tricks, as well as understanding a healthy mouth leads to a healthy body. Walking into SDT, there is this sense of family and comfort that can't be beat! And there's always a lot of smiling and laughing going on! When I'm not at work, I love being with my family, watching my kids play sports, and reading.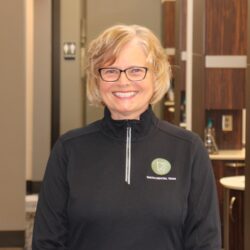 Carolyn
Dental Assistant
Hello, my name is Carolyn. I am a Dental Assistant for Smith Dental Team. It is so nice to work with a great group of people. Teamwork is so much a part of how we work to keep our patients healthy. I enjoy that the patients in our practice are friends as well as patients. When I am not working, I enjoy a good book, a hike, a bike ride, sewing and most of all visiting my kids and grandkids who live all over the world.
Jamie
Dental Assistant
Hi, my name is Jamie and I am a Dental Assistant. I love the family atmosphere that Smith Dental Team has. Everyone genuinely loves and cares for each other and their families when we walk through the doors. It is so rewarding when I am able to help patients with their smile or help them overcome a fear of going to the dentist. Aside from work, I enjoy hiking different Michigan trails with my family. I also love going to sporting events whether it be my kids or professional sports.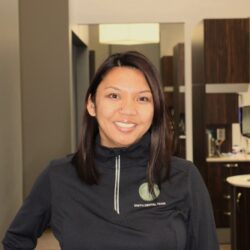 Karen
Dental Assistant
Hi, I'm Karen and I'm a Registered Dental Assistant for Smith Dental Team. Our office is definitely one of a kind! I have known our team for many years and have built wonderful friendships with every single one of them. They are my work family and I couldn't ask for a better team. 
What I enjoy the most about my job is when I can help a patient who has dental-phobia. Anytime I can help them overcome their fear, I find that very rewarding. I too as a young girl had dental-phobia. I love our patients. They make my job worthwhile. 
When I'm not working, I love to fish, whether it's for pan fish or good old catch. Ice fishing too, I love it all! I also like to hunt and am a pretty decent golfer. I owe it all to my husband, I couldn't have asked for a better teacher. We have two beautiful kids, Shayne who is my quiet child and Mercedes who is the complete opposite. We love them both very much and enjoy watching them play outside together.  
Kerrie
Dental Assistant
Hi! My name is Kerrie and I am one of the Dental Assistants at Smith Dental Team. I have been working as a dental assistant for over 25 years and truly love my job. I feel at SDT we all work together to give our patients the best possible experience they can have at the dentist! I really like talking with my patients and helping them get through an appointment they are not always so excited to be at! SDT feels like a family and I love being a part of the team!
Outside of work I enjoy traveling with my husband, spending time with my adult children and dog Dodger, as well as gardening and reading.